Congratulations on the gift of a child!
The service of Baptism – or christening – is a lovely occasion and brings gerat joy to the couple and congregation.  It also involves responsibilities because parents promise to follow Christ, repent of their sins, renounce evil and bring up their child in public worship.  There is no better way to start a child's life.
Preparation
Parents, contact the vicar, who will help you to make arrangments, and fix a date to suit you.  He will try to answer your questions, and help you make the day as happy and meaningful as it should be.
Payment
No fees need to be paid to the church or the minister at any time.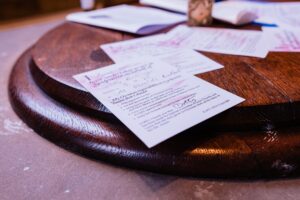 Godparents
Godparents normally include two people of the same sex as the child, and one of the opposite sex, although it is all right to have more than three.
The Service
Baptism can be held within the normal sunday service, or as a stand alone service if specifically required. A normal Sunday service is about an hour, and we try to keep them as family friendly as possible – all ages are welcome in the house of God, so we believe they should be in our churches too!
Queries
Contact the vicar, Rev. Derek Jones,  by email, or come and visit us in any service and we'd love to chat with you about making it happen!