All Saints Horton is a fine Victorian inner-city parish church built in 1864, by local Landowner and MP Sir Francis Sharp-Powell of Horton Hall. In 1976 the church was re-ordered with a nave altar, a relocated font and parish rooms with toilets, office and kitchen.
In the past ten years, we have:
developed the vestry as a meeting room, with baby toilets
put in new central heating throughout, with additional radiant heating in the chancel
renovated the nave lighting with the original brass circlets
replaced the lighting in the chancel
Created a worship space in the chancel
repaired the organ
created an open space at the rear of the nave
installed a disabled toilet
created an IT suite for the community out of the Vint chapel
installed cast iron gates in both the south and north porch
Repaired the spire and upper levels of the building
Raised the ground level at the main entrance to make it level access
Restored roof above organ – see below!
The high quality interior, in which only the finest materials and craftsmanship were used, is of the same unified style as the exterior and contains much fine wood and stone carving. There are outstanding stained glass windows. The pulpit and font are of intricately carved alabaster and the encaustic floor tiles cover extensive areas. The Hedgland organ (rebuilt J. J. Binns) is used most Sundays.
Below is the tower of All Saints – can you work out what this is?  You are looking down the inside of the tower from high up; you can just see the fine Victorian floor tiles on the ground, in the centre of the picture.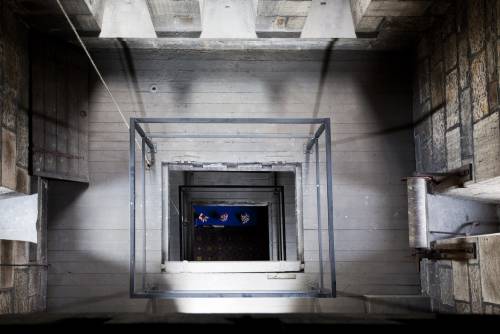 Restoration of the metal work has started.  Look at the pulpit and see where the conservators have done paint scrapes and revealed the astonishing colours underneath the dreadful 1960s bronze paint.  The old work by Thomas Skidmore shows the quality of this premier ironworker of his generation, here in All Saints. Some of his other work is in the Victoria and Albert museum in London, and in the Herbert Museum in Coventry, such is the quality.  Have a look.